Join AlphaMaven
The Home Of Alternative Investments
What Are Listed Private Investments?
The vast world of Private Investments is full of attractive investment opportunities that have the potential to prosper in any market condition. Yet, due to its size and complexity, the Private Investment world can be extremely difficult for investors to navigate. AlphaMaven created Listed Private Investments to remove investment barriers and provide:
Listed Means: Centralized Access
Until now, there has been no centralized location to discover, track and research pre-screened Listed Private Investment Opportunities.
Unlike other solutions, AlphaMaven is not simply a database with quantitative information. AlphaMaven is an interactive solution where Investment Managers can post news, documents, research, videos, communicate directly with connections and much more!
AlphaMaven offers Investors "High Speed Search" capabilities utilizing sophisticated algorithms and advanced filtering options to efficiently find Investments Opportunities.
Sign Up Now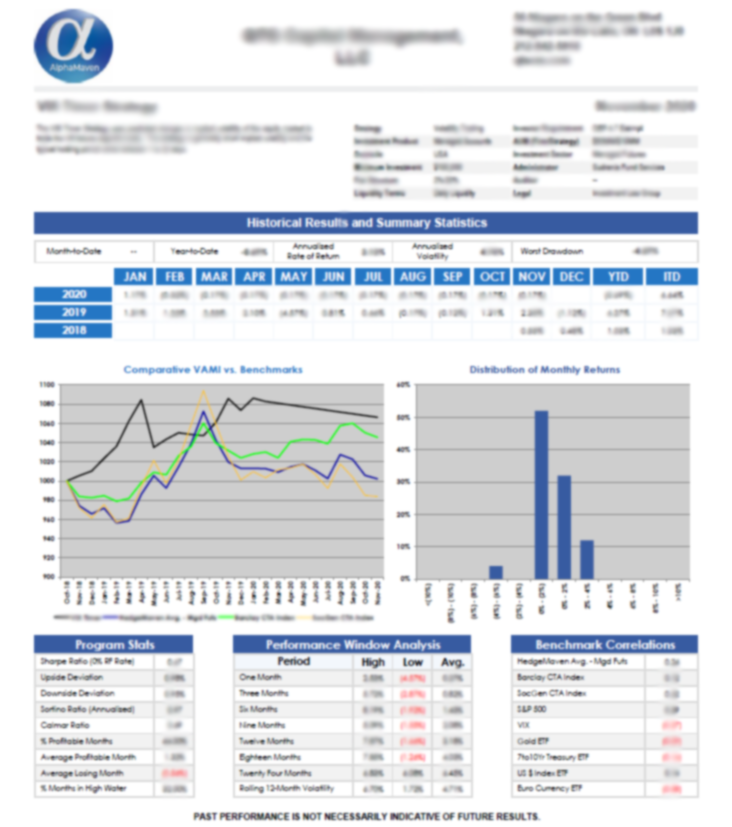 Listed Means: Quality Control
Quality control is an ongoing process. AlphaMaven rigorously screens all Listed Investments to ensure quality. The listing process entails performance review, principal background checks, corporate entity review, regulatory status review, service provider references, deep-dive internet analysis and ongoing feedback from the community generating "Crowdsourced Due Diligence".
Pre-Screened Investment Opportunities
Ongoing AlphaMaven Review
Ongoing Crowdsourced Due Diligence
Sign Up Now
Listed Means: Comprehensive Information
AlphaMaven Listings offer the industry's most comprehensive investment profiles. Investment Managers can post investment details, Video PitchBooks, newsletters, tear-sheets, market commentary, white-papers, awards, marketing materials, due-diligence docs, videos, news, announcements, webinars, interviews and much more!
Industry's Most Comprehensive Investment Profiles
Continuously Updated News, Videos, Presentations, Market Commentary, Research, Awards, Due Diligence Documents and much more!
Sign Up Now
---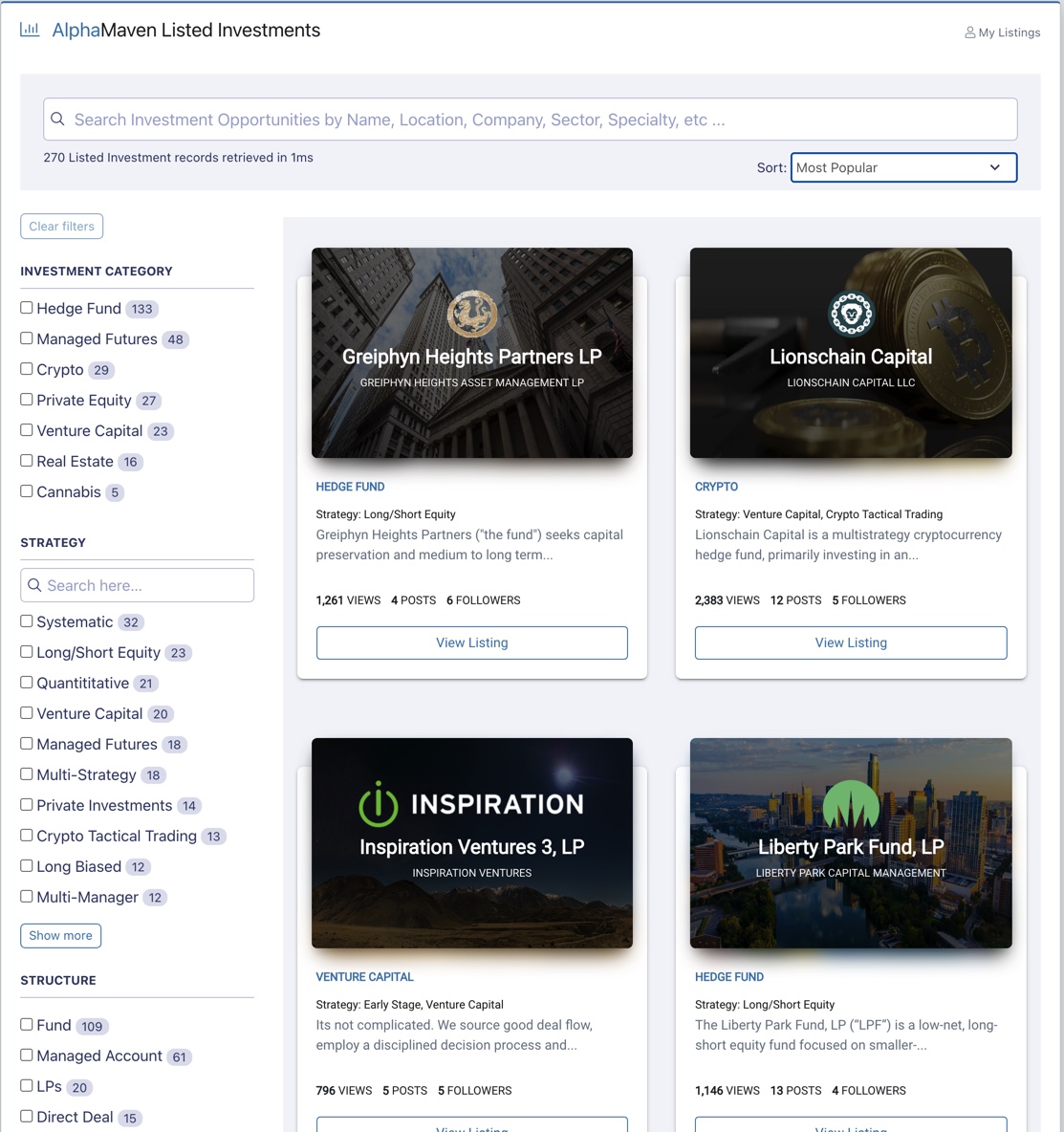 Listed Means: Adding Transparency
Listed Investment managers are greatly rewarded for continuously updating their profiles and providing transparency to investors. Posting content greatly improves a Listing's AlphaMaven search rank and helps Investment Managers build a following within the community. Investors who Follow Listings receive updated data delivered directly to their custom content feeds.
Listings Rewarded for Providing Transparency
Investors Benefit by Efficiently Receiving Updates
Sign Up Now
Listed Means: Crowdsourced Due Diligence
The AlphaMaven community is comprised of thousands of investors, managers and service providers. Listed Investment content is reviewed by the community on an ongoing basis. Community members are encouraged to anonymously "report abuse" if they see any content that seems suspicious or incorrect. AlphaMaven investigates claims and allows managers to respond before taking appropriate measures, including de-listing.
Large and Active Professional Community
Comprehensive Investment Profiles Continuously Reviewed
Community Encouraged to 'Report Abuse' If Necessary
Sign Up Now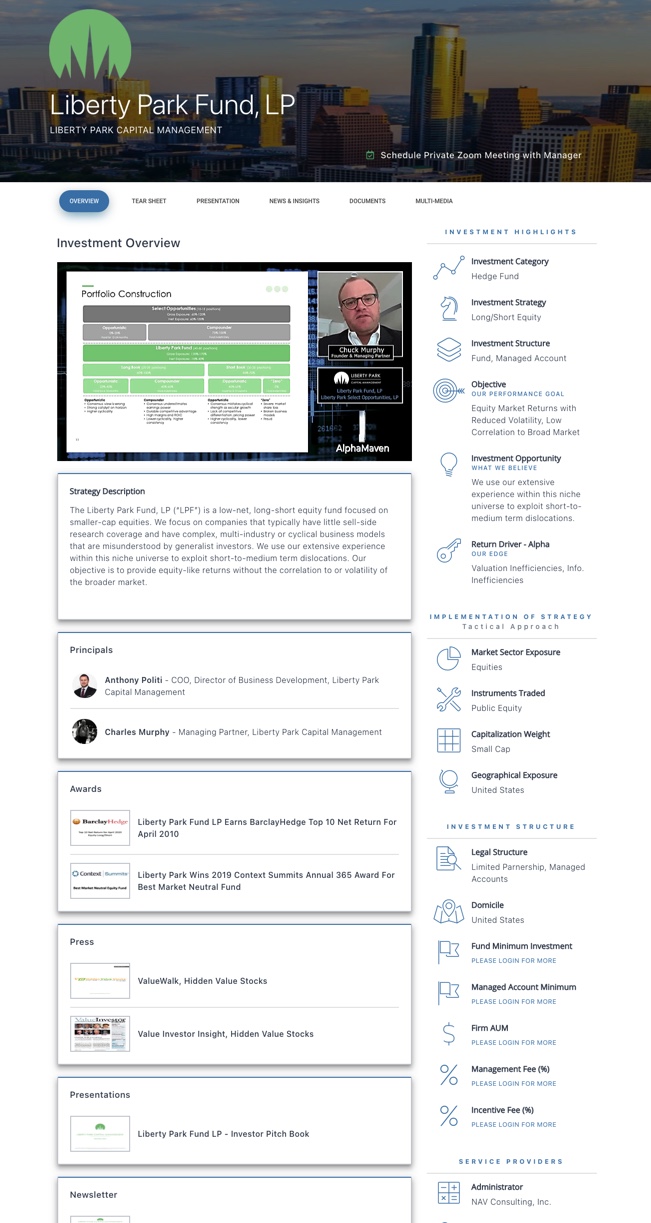 Listed Means: Standardized Profiles
Many seasoned investors know the agony and chaos of receiving hundreds, if not thousands, of investment communications in their email inbox and no two communications are alike! Lack of uniform information makes the difficult job of tracking Private Investments nearly impossible. AlphaMaven Listed Private Investment profiles are standardized across investment strategies and allow investors to easily find information and Follow for updates
AlphaMaven Organizes Volumes of Information
Data is Normalized for Consistent Analysis
Follow Listings for Auto-Updates
Sign Up Now
Join The Community
The vast and constantly changing world of Private Investments is full of opportunities but it can be extremely difficult for investors to navigate. Join the AlphaMaven community to access
Listed Private Investments

and more:
AlphaMaven Premium Services
---
Most Popular Private Investment Strategies
A Private Investment is any type of investment opportunity that is not formally listed on an Official Exchange (such as the NYSE, NASDAQ, CME, etc.). Private Investments include Alternative Investments as well as Traditional Strategies like 'Long Only Equity' which primarily invests in public securities but is offered via a private fund or managed account. Private Investments can help maximize portfolio performance and reduce risk by offering qualified investors unique diversification opportunities. The most popular Private Investment Strategies listed on AlphaMaven are:
Hedge Funds
Managed Futures
Crypto Funds
Venture Capital
Private Equity
Private Company Direct Equity
Real Estate
Commodities
Cannabis
Private Credit & Debt
Managed Fixed Income
Managed Public Equity
---
Definition of Listed Private Investments
Created by AlphaMaven, 'Listed Private Investments' are investment opportunities that have met stringent quality controls and have been approved for Listing by AlphaMaven. The Listing review process is ongoing and entails both crowd-sourced due diligence by AlphaMaven Members as well as rigorous review by AlphaMaven. The ongoing process includes, but is not limited to, peer review, regulatory checks, background checks, document reviews, service provider verification and more. If at any point an investment is deemed unsuitable, it is De-Listed by AlphaMaven.
We welcome you to join our community! Click the buttons below to proceed.
ALL ALPHAMAVEN CONTENT IS FOR INFORMATIONAL PURPOSES ONLY. CONTENT POSTED BY MEMBERS DOES NOT NECESSARILY REFLECT THE OPINION OR BELIEFS OF ALPHAMAVEN AND HAS NOT ALWAYS BEEN INDEPENDENTLY VERIFIED BY ALPHAMAVEN. PAST PERFORMANCE IS NOT INDICATIVE OF FUTURE RESULTS. THIS IS NOT A SOLICITATION FOR INVESTMENT. THE MATERIAL PROVIDED HEREIN IS FOR INFORMATIONAL PURPOSES ONLY. IT DOES NOT CONSTITUTE AN OFFER TO SELL OR A SOLICITATION OF AN OFFER TO BUY ANY INTERESTS OF ANY FUND OR ANY OTHER SECURITIES. ANY SUCH OFFERINGS CAN BE MADE ONLY IN ACCORDANCE WITH THE TERMS AND CONDITIONS SET FORTH IN THE INVESTMENT'S PRIVATE PLACEMENT MEMORANDUM. PRIOR TO INVESTING, INVESTORS ARE STRONGLY URGED TO REVIEW CAREFULLY THE PRIVATE PLACEMENT MEMORANDUM (INCLUDING THE RISK FACTORS DESCRIBED THEREIN), THE LIMITED PARTNERSHIP AGREEMENT AND THE SUBSCRIPTION DOCUMENTS, TO ASK SUCH QUESTIONS OF THE INVESTMENT MANAGER AS THEY DEEM APPROPRIATE, AND TO DISCUSS ANY PROSPECTIVE INVESTMENT IN THE FUND WITH THEIR LEGAL AND TAX ADVISERS IN ORDER TO MAKE AN INDEPENDENT DETERMINATION OF THE SUITABILITY AND CONSEQUENCES OF AN INVESTMENT.