Join AlphaMaven
The Home Of Alternative Investments
Listed Private Investments
AlphaMaven Listings offer high-calibre Investment Managers access to a global network of qualified investors looking for private investment opportunities. Approved Investment Managers can showcase their investment opportunities by easily posting content such as presentations, newsletters, awards, commentary and more.
Access to a Global Network of Qualified Investors
Showcase Investment Opportunities
Highly Visible Featured Posts
Sign Up Now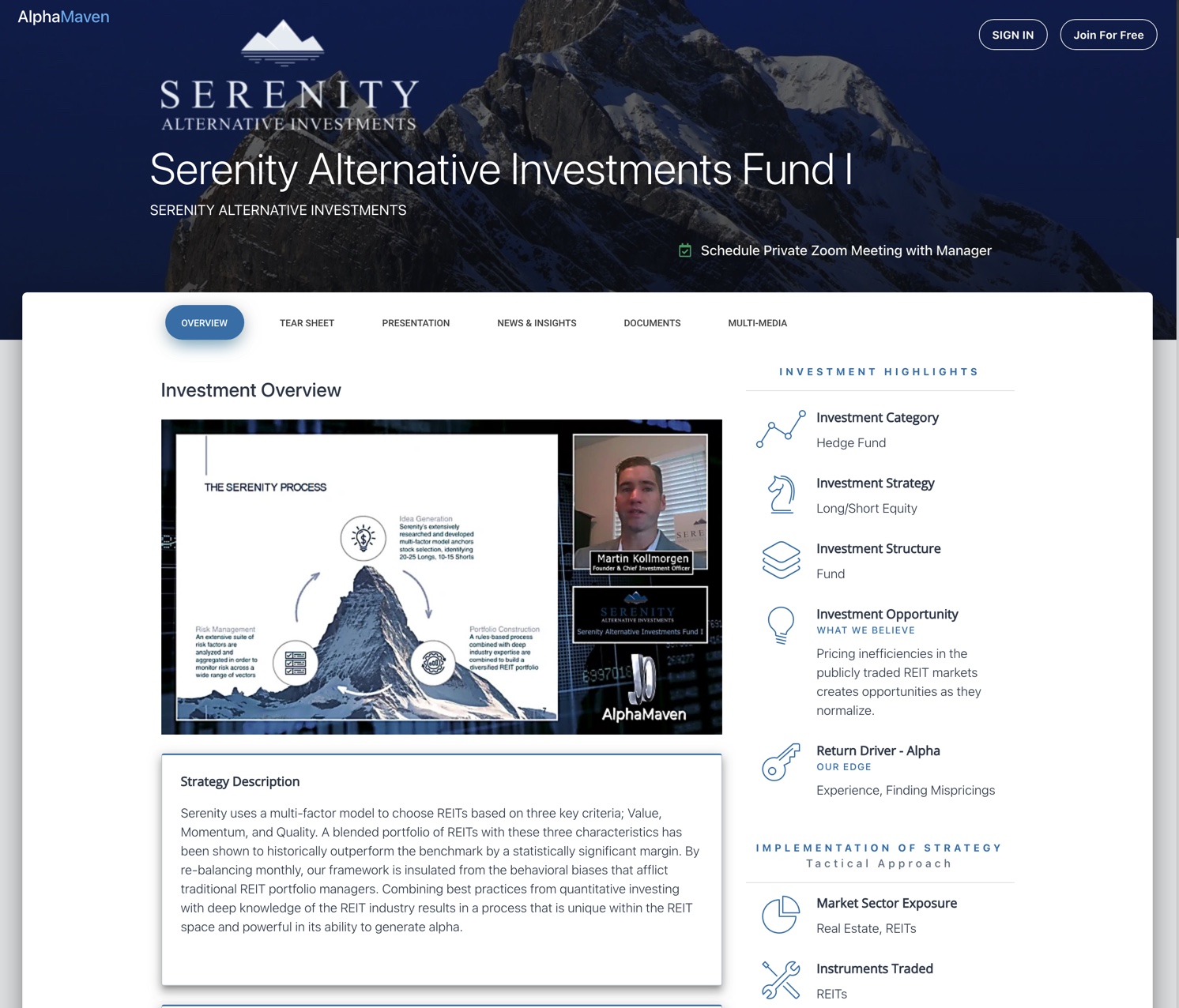 Sample Profile
---
Get Listed: Video PitchBook
AlphaMaven will produce a Video PitchBook complete with views tracking for "Pro" level Investment Listings (only $199/month). Investment Managers can record a simple 10 minute pitch (on their iPhone or equivalent) and AlphaMaven does the rest. Investment Managers don't have to worry about studio quality video. AlphaMaven will edit and sync with your PowerPoint. The focus of the video is the animated PowerPoint and the Investment Manager is simply a "Talking Head" thumbnail image narrating the presentation. AlphaMaven makes it extremely easy for Investment Managers to have a professional quality Video PitchBook!
"Pro" level Investment Listings Include a Professional Custom Video PitchBook Produced by AlphaMaven
No Stress Simple Process for Investment Managers
AlphaMaven Hosts, Streams and Distributes Video PitchBooks to It's Qualified Investor Network
Easily Track Video PitchBook views
Receive a Link to Add to Your Website or Email to Your Prospects!
Sign Up Now
---
Post Industry Content
Easily post your industry news, videos, announcements, presentations, awards, research, press, market commentaries, webinars podcasts and more! Your posts are visible throughout the AlphaMaven website and sent directly to your followers.
Access to a Global Network of Qualified Investors
Showcase Your Industry Content
Engage Relevant Audiences
Sign Up Now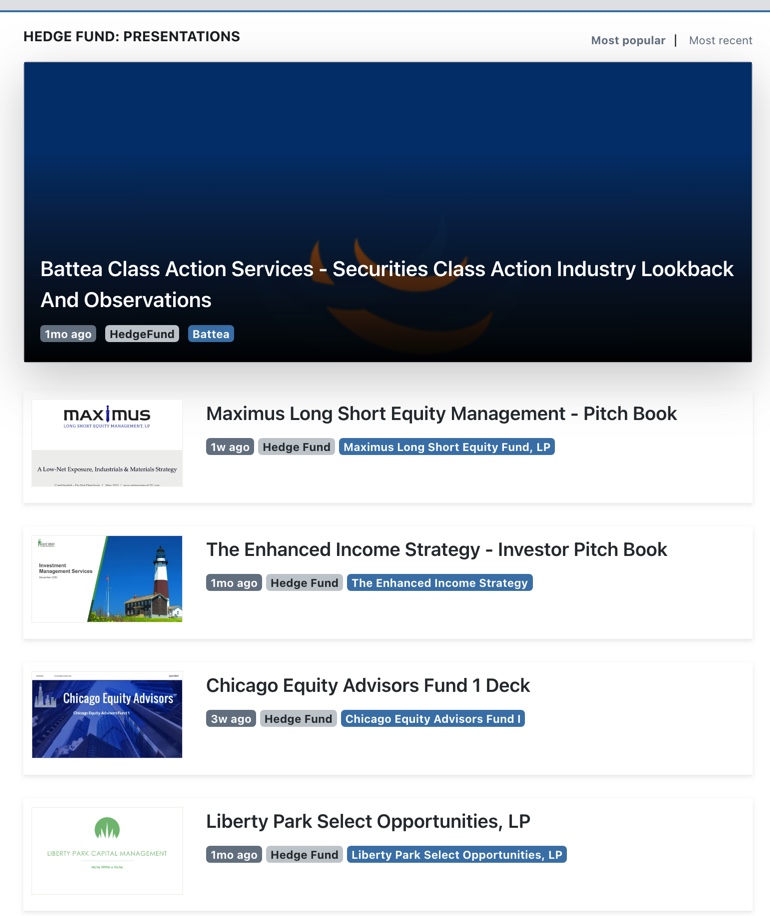 ---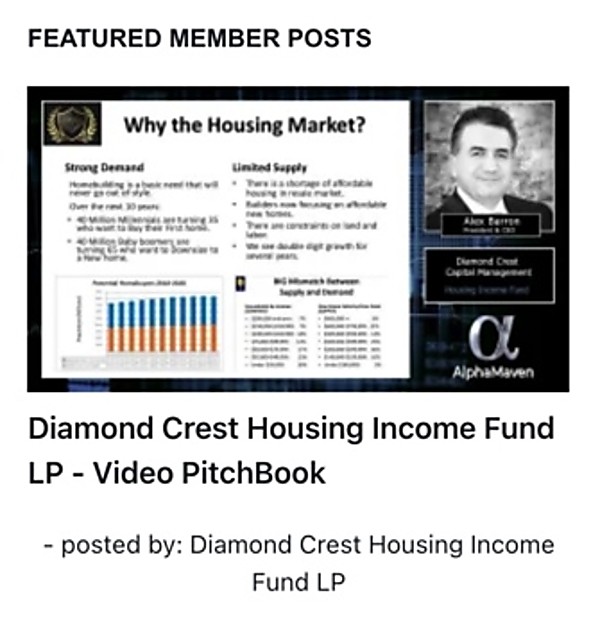 Featured Posts
Utilize Featured Posts to increase the visibility of your posted industry content and increase traffic to your profiles (Contact, Company or Investment Listings). Your Featured Posts will be prominently displayed in high traffic areas throughout the AlphaMaven website, included in relevant news feeds, added to our daily newsletter (sent to over 140K people per week) and more.
Increase Posted Content Visibility
Increase Traffic to Your Profiles (Contact, Company, Investment Listing)
Prominently Displayed with a minimum of 500 views
Sign Up Now
---
Advanced Search
Utilize AlphaMaven advanced search filters to instantly pinpoint potential contacts by industry role, areas of interest, and other detailed information. Our advanced search algorithms index detailed information on profiles, news stories and posted content to help subscribers pinpoint information.
Use Advanced Filters to Find the Proverbial Needle In The Haystack
Filter by Industry Role, Areas of Interest and more
AlphaMaven Advanced Algorithms Index Vast Quantities of Data Readily Available for Subscribers
Sign Up Now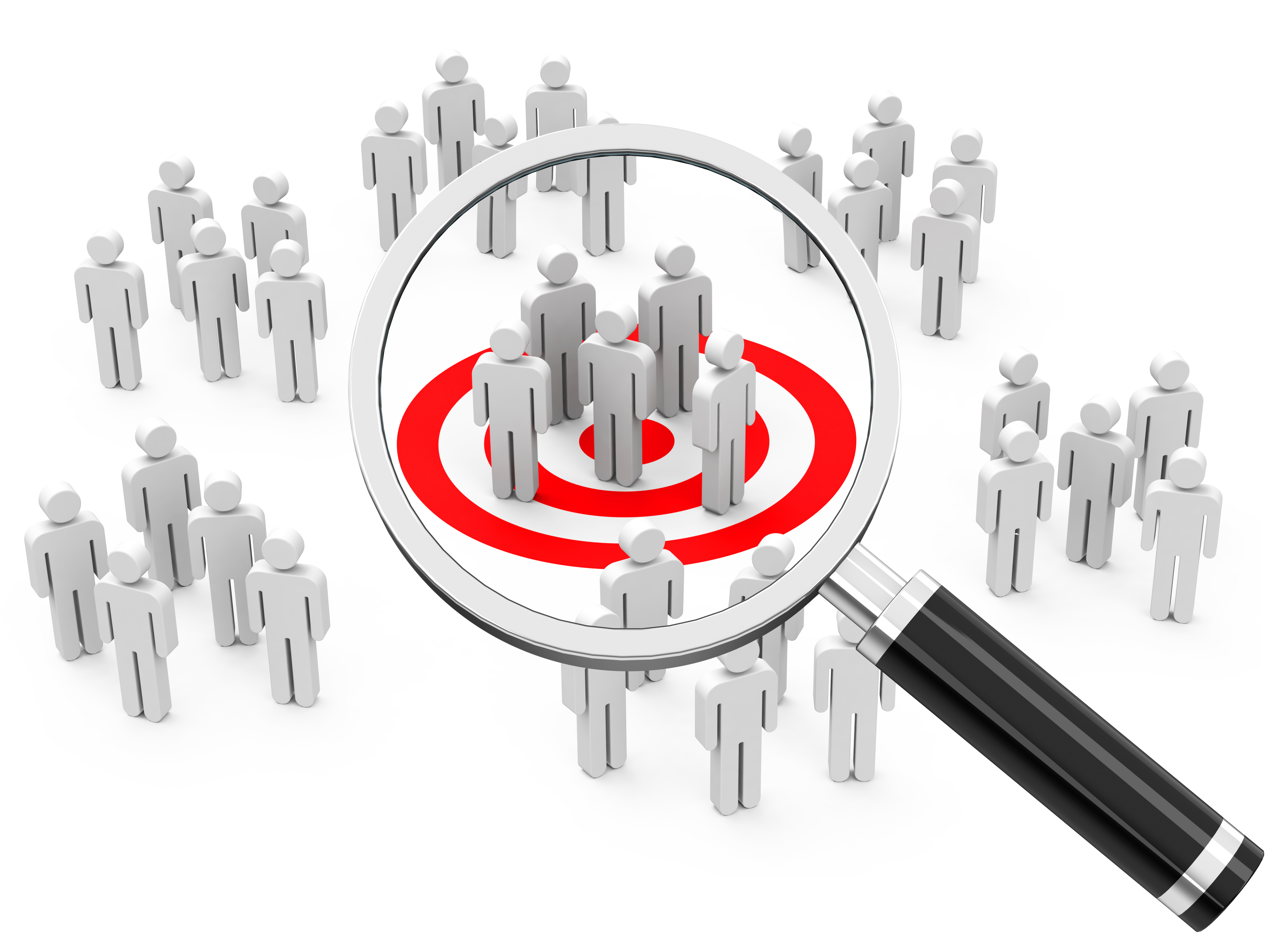 Investor Matchmaking
Based on your specific criteria and qualifications, we facilitate manager-investor connections and meetings. We utilize our professional network and our proprietary technology that relies on advanced Data Science and Artificial Intelligence to generate high calibre introductions.
Manager-Investor Connections & Meetings
Utilize Our Vast and Expanding Professional Network
Refine Matches with Data Science/Artificial Intelligence
Sign Up Now
ALL ALPHAMAVEN CONTENT IS FOR INFORMATIONAL PURPOSES ONLY. CONTENT POSTED BY MEMBERS DOES NOT NECESSARILY REFLECT THE OPINION OR BELIEFS OF ALPHAMAVEN AND HAS NOT ALWAYS BEEN INDEPENDENTLY VERIFIED BY ALPHAMAVEN. PAST PERFORMANCE IS NOT INDICATIVE OF FUTURE RESULTS. THIS IS NOT A SOLICITATION FOR INVESTMENT. THE MATERIAL PROVIDED HEREIN IS FOR INFORMATIONAL PURPOSES ONLY. IT DOES NOT CONSTITUTE AN OFFER TO SELL OR A SOLICITATION OF AN OFFER TO BUY ANY INTERESTS OF ANY FUND OR ANY OTHER SECURITIES. ANY SUCH OFFERINGS CAN BE MADE ONLY IN ACCORDANCE WITH THE TERMS AND CONDITIONS SET FORTH IN THE INVESTMENT'S PRIVATE PLACEMENT MEMORANDUM. PRIOR TO INVESTING, INVESTORS ARE STRONGLY URGED TO REVIEW CAREFULLY THE PRIVATE PLACEMENT MEMORANDUM (INCLUDING THE RISK FACTORS DESCRIBED THEREIN), THE LIMITED PARTNERSHIP AGREEMENT AND THE SUBSCRIPTION DOCUMENTS, TO ASK SUCH QUESTIONS OF THE INVESTMENT MANAGER AS THEY DEEM APPROPRIATE, AND TO DISCUSS ANY PROSPECTIVE INVESTMENT IN THE FUND WITH THEIR LEGAL AND TAX ADVISERS IN ORDER TO MAKE AN INDEPENDENT DETERMINATION OF THE SUITABILITY AND CONSEQUENCES OF AN INVESTMENT.